Hallo! I am Dagfinn Kristiansen, a resident of Fredrikstad, Norway,
where I was born in 1957. I am searching for the only relatives of mine
I know to have left Norway, my two granduncles who left for Australia about 1910.

---
My grandparents:
Inga Sofie Simensen, born 20th of August 1879 and Johan Anton Kristiansen, born 27th of June 1876.
They were married in 1902 and lived on a little farm called Hovland in the community Råde (Raade)
between Fredrikstad and Moss, approx. 50 miles to the south of Oslo, at the east side of the Oslo Fjord.

---
My father:
Johan, was the youngest of 12 children. He told me frequently about his
two granduncles who sailed for Australia about 1910. My father died in 1993 at the age of 69.
---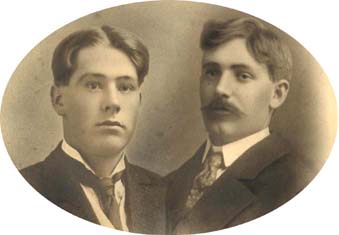 They were;
Mr Oskar Didrik Wister
b. July 30th 1884 - d. June 1965


Mr Olaf Kristiansen


b. in 1882 - d. ?

Oskar Didrik Vister (Possibly Oscar Didrik Vister) was brother of my fathers mother,

Olaf Kristiansen was brother of my grandfather This photo was taken just before they

both left Norway for Australia around 1910 I will be happy to recieve any news of or

any connection to distant relatives in Australia. Please feel free to contact me in Norway.


Last update: November 22th. 2002



Kjære gjester og kontakter i Australia.
Jeg ble tipset om den australske telefonkatalogen som ligger på nettet. 28 personer med etternavn Kristiansen og 3 personer med Wister viste seg dessverre ikke å være i slekt med meg. Men skam få den som gir seg, så vi står på igjen.



* * *

Siste nytt om
Wister
* * *

Siste nytt om
Kristiansen


Jeg har søkt i New Zealand Det er 10 personer med navnet Kristiansen i New Zealand. Jeg har sendt brev til alle 10 med kopi av denne web-side. Ingen er i slekt med meg.



Dear visitors and friends in Australia.
After having recieved the web-site of the Australian phone book , I wrote letters with copies of this page to 28 persons named Kristiansen and 3 named Wister. Unfortunelately none of these people were related to me. But, shame to those who give in. I keep on searching


* * *


Last news from
Wister
* * *
Last News from
Kristiansen

I have search for Kristiansen in New Zeeland. There are 10 individuals named Kristiansen in New Zeeland. I have submitted a letter, including copy of this web-site to all of them. No one is in relative with me.






Mr Dagfinn Kristiansen

Norway

e-mail

- Phone: +47-9011 5965

Visitors since January 1 th. 2001

[ Sign my GuestBook ] - [ Read my GuestBook ]
[ GuestBook by TheGuestBook.com ]

---
Links for searching relatives/lost people in Australia & New Zealand




---
Webmaster:
DagfinnKristiansen
20©04